Joint Annual Meeting of ÖPG/SPS/ÖGAA - Innsbruck 2009

Arrival - getting to the conference place
(marked V.-F.-Hess-Haus in the map below)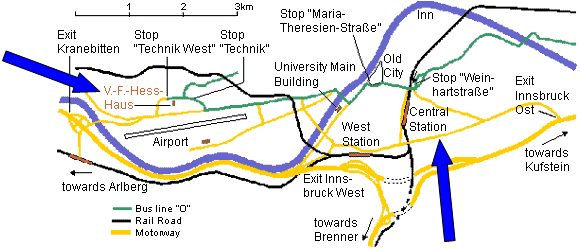 Finding the conference place with google maps

Arrival
How to get to the conference place
by train
Exiting the Central Station, look for a bus from line "F" going to the airport ("Flughafen"). Take it but change at the stop "Fürstenweg" (which is the first stop after you have crossed the river Inn) for a bus from line "O", with which you continue until stop "Technik" (see map).
Alternatively you can take a short walk (400 m) which leads immediately to a bus stop from line "O": Exiting the Central Station, turn right into "Bruneckerstraße", after 200 m turn right again, cross the rails by the underpass, walk across the "Amraserstraße" towards the shopping center "Sillpark". There, turn left, cross the street, turn right again and walk to the bus stop "Weinhartstraße (see map)". There enter a bus from line "O" and exit at stop "Technik".
by car
Being on motorway A12, take exit "Innsbruck/Kranebitten". [When coming from the east, avoid all exits Innsbruck/Ost,Mitte,West.] Follow the signs "Innsbruck" and "Flughafen". After 500 m at the next traffic circle turn left into the "Technikerstraße". The conference place is the big building that you see on your right side. Parking places are available on the campus (€ 7 per day).
When arriving by car from Switzerland please note that you need a toll sticker in order to be allowed to use the Austrian highways (the cheapest toll sticker is € 7.70 for 10 days). You should buy this sticker already in Switzerland. It is available e.g. at petrol stations near the border. The sticker has to be validated before usage.
Also note that you have to pay € 8.50 in addition if you decide to use the 14 km long Arlberg tunnel on your way to Innsbruck. In summer time you can instead take the road over the mountains and enjoy the nice view. In that case exit the highway at the sign "Arlberg Passstraße" (about 500 meters before the tunnel starts).
by airplane
From the airport, take bus line "F" to stop "Fürstenweg", exit there and walk (100 m in the direction of the bus) to the next crossing. There turn left and cross two streets to get to the stop "Fürstenweg" of bus line "O". Take any of the buses with final destinations "Technik West", "Allerheiligen" or "Peerhofsiedlung" and exit at stop "Technik" (see also the map above).
If you want to go to a hotel in the city center, continue with bus line F.
Bus tickets are sold by the bus driver (single tickets only) and in tobacco shops (more info on the Venue page).